Become a Friend of the Quilt Museum and Gallery
Published: Friday, 10th August 2012 16:17 PM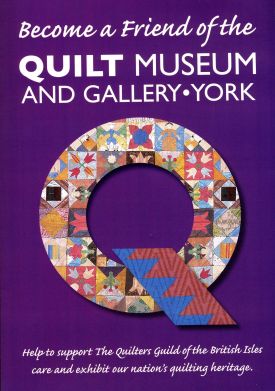 The Quilt Museum and Gallery, opened in 2008, and cares for a unique collection of over 800 quilts and related artifacts collected from around the British Isles dating from the earliest piece in the collection, the 1718 Silk Patchwork Coverlet, to the present day.
The Quilt Museum and Gallery is independently funded through admissions, grants and donations and is managed by The Quilters' Guild of the British Isles, an education charity formed in 1979 to promote the allied crafts of patchwork, applique and quilting. The Museum and Gallery is run by a small team of staff and dedicated volunteers.
The Quilt Museum and Gallery exhibits pieces from The Quilters' Guild Collection and work by contemporary makers the Museum and Gallery also loans pieces to other museums and galleries in the UK and exhibits at the Festival of Quilts at the NEC in Birmingham each August.
Frequently asked questions
How can I become a Friend?
Join over the phone, online, or in person at the Museum and Gallery in York.
How much does it cost to become a Friend?
There is a minimum donation is £15, larger donations are welcome.
What are the benefits to becoming a Friend?
Knowing that you are helping support the work of this small specialist museum to preserve and exhibit over 300 years of quilting history for future generations to enjoy.
An annual pass giving you admission to the Museum and Gallery and 10% discount in the Quilt Museum Shop for each year that you donate.
How can I get in touch for more information? 01904 613 242 membership@quiltersguild.org.uk or download an application form.