New exhibitions open at the Quilt Museum and Gallery
Published: Friday, 23rd January 2015 09:18 AM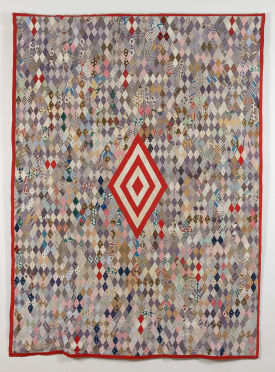 At the end of 2014, the Museum's manager, Fiona Diaper, spent a hectic two days handing over her role to Shirley Collier, who is covering Fiona's maternity leave. The new year started for us all with the glad news that Fiona has had her baby and that mother and new son are both doing well, and for Shirley with the slightly daunting task of remembering all that Fiona had told her before the Christmas and New Year festivities. She's had a wonderful first three weeks at the Museum which has been a hive of industry – walls being painted, new season leaflets arriving, our own exhibition, 'All Shapes and Sizes', being installed by our ever-willing volunteers, and the work from our guest exhibitors, Fine Cell Work, arriving complete with a bed, some chairs and the exquisite and poignant quilts, made by male prisoners, which constitute their exhibition 'Voices from the Inside'. Added to that, our student volunteers installed a third exhibition, 'Chinese Whispers', in the Aldwark Gallery in record time and hey presto, we're ready to re-open!

If you'd like to see the "Laurel and Hardy" version of the installation of the exhibition All Shapes and Sizes, you can see it at the bottom of this blog page. Our thanks go to Catherine, Retail Manager and photographer extraordinaire, for creating the film for us.

These three exhibitions are open until 9th May, when we'll close for a few days to install the highly colourful exhibition Ancestral Gifts, curated and created, in the main, by internationally acclaimed textile designer and artist Kaffe Fassett. Keep an eye on the events that the museum is putting on and be sure not to miss Kaffe's lecture in May and his design workshops in July.

If you are a regular reader of this blog you'll know that this will be the Museum's final season at St Anthony's Hall, though this is not our final exhibition! We are currently showing Kaffe Fassett's Ancestral Gifts until 5th September, and the final show of the season will be Quilt Art's 30th anniversary exhibition, Dialogues, on show from 11th September to 31st October.
We look forward to seeing you.
The Quilters' Guild Collection is held by The Quilters' Guild of the British Isles.
Registered charity no 1067361 Company limited by guarantee registration no 34476331 Charity in Scotland no. SC043174.
© 2018 Quilt Museum and Gallery, York | Printed from: www.quiltmuseum.org.uk/blog/quilt-museum-news/01450.html