1930s Silver Jubilee Coverlet
Move your mouse cursor over the image to examine this quilt in detail.
Maker:

James Burt

Date:

1936 - 1937
James Burt made this quilt for his friend Wilfrid McSloy when they were both being treated for tuberculosis in a sanatorium in Northumberland in the late 1930s. It took James a year to make by hand and he calculated he had used a total of 12,264 patches, sewn together at 16-18 stitches to the inch, taking 1,825 hours.
The front side is made of square patches on point with a border of larger rectangular patches set at an angle. This has also been embroidered to celebrate the Silver Jubilee of George V and Queen Mary. It has also been decorated with an appliquéd cigarette silk printed with the British Empire Royal Standard flag. The reverse is also made of patchwork, all squares on point. The patches are a mixture of plain and printed dress cotton, silk and rayon fabrics.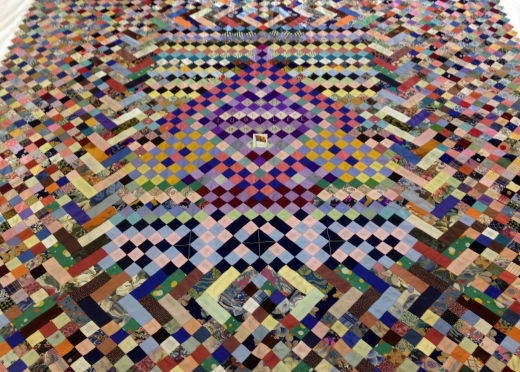 The Quilters' Guild Collection is held by The Quilters' Guild of the British Isles.
Registered charity no 1067361 Company limited by guarantee registration no 34476331 Charity in Scotland no. SC043174.
© 2020 Quilt Museum and Gallery, York | Printed from: www.quiltmuseum.org.uk/collections/all/all/1700-2020/1930s-silver-jubilee-coverlet.html