Berlin Wall Quilt
Move your mouse cursor over the image to examine this quilt in detail.
Maker:

Jean Grimshaw

Date:

2005
This poignant piece is full of emotion, capturing the makers feelings about an experience that happened during her youth. Jean spent time in Germany with her pen friend whilst doing her A-Level German course. During her visit in 1961, the Wall was put up, with members of her friend's family trapped on the East Berlin side of the wall. This event had a lasting impression on Jean, who continued to feel a deep connection with the city, visiting often. The quilt represents her feelings and experience of Berlin and its people, and her joy when the wall came down in 1989.

The quilt was carefully designed and features a central visual wall installation with barbed wire quilting running across all three triptych pieces and uses fabric painting, appliqué, photograph transfers, quilting and embroidery. German phrases such as 'Berlin Ohne Mauer' (Berlin without walls), 'Keine Mauer' (No more walls) and the touching 'Wir haben euch gerne auch in der Ferne' (We care about you, even though we are apart) show the heartfelt emotions felt by divided families and friends.

Jean was a creative and versatile quilter, and volunteered as Regional Coordinator and Newsletter editor in Region 5 of The Quilters' Guild. This quilt was exhibited by Bristol Quilters and in an exhibition in Berlin.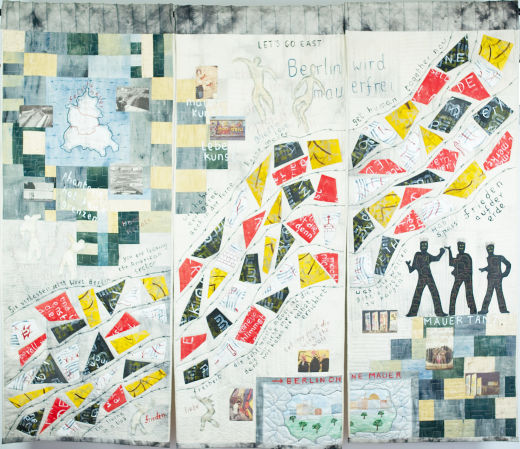 The Quilters' Guild Collection is held by The Quilters' Guild of the British Isles.
Registered charity no 1067361 Company limited by guarantee registration no 34476331 Charity in Scotland no. SC043174.
© 2020 Quilt Museum and Gallery, York | Printed from: www.quiltmuseum.org.uk/collections/all/all/1700-2020/berlin-wall-quilt.html