Fitted Wool Tablecover
Move your mouse cursor over the image to examine this quilt in detail.
Maker:

Singleton, William

Date:

1860 - 1880
Hand pieced wool tablecover with fitted sides and cotton fringe edging. The cover is geometric in design, with circles and squares that are edged with braid. The cover was made to fit a specific table and has a scalloped edge along all sides.

This is one of the few items in the collection known to have been made by a man. William Singleton was born in 1837 and was a Private in the 3rd Madras European Regiment during the Indian Mutiny. When he left the army he joined the Police force, and in later life moved with his family to Leyland. It is thought he made this tablecover, and a coverlet (also in the collection) at some time during the 1860s-1870s.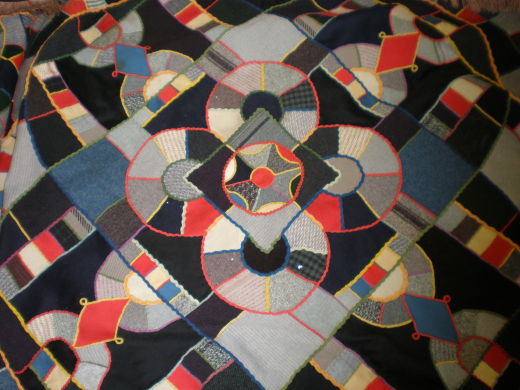 The Quilters' Guild Collection is held by The Quilters' Guild of the British Isles.
Registered charity no 1067361 Company limited by guarantee registration no 34476331 Charity in Scotland no. SC043174.
© 2021 Quilt Museum and Gallery, York | Printed from: www.quiltmuseum.org.uk/collections/all/all/1700-2020/fitted-wool-tablecover.html