'Yorke 1611'
Move your mouse cursor over the image to examine this quilt in detail.
Maker:

Date:

2012
The design is a quilted map of the historic city of York inspired by John Speedwells map of the walled city in the early 1600s. The artist intended it to describe the main features of the city that survive today, and show the beginnings of what is now a great and flourishing city, celebrating the permanence of the main features of York. The artist used hand dyed fabrics and the quilt was machine pieced, machine quilted and uses fused applique.


This piece is one of two commissioned quilts by The Quilters' Guild of the British Isles for the 'Quilt City' project, a specially funded quilt trail across the city of York as part of the 800th anniversary celebrations in 2012.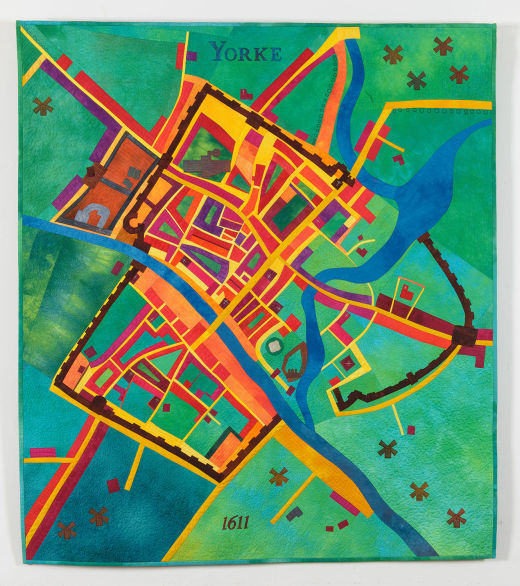 The Quilters' Guild Collection is held by The Quilters' Guild of the British Isles.
Registered charity no 1067361 Company limited by guarantee registration no 34476331 Charity in Scotland no. SC043174.
© 2020 Quilt Museum and Gallery, York | Printed from: www.quiltmuseum.org.uk/collections/all/all/2010-2020/yorke-1611.html