Three Ships from Hull: Captain Cook 250
Move your mouse cursor over the image to examine this quilt in detail.
Maker:

Cathy Corbishley Michel

Date:

2018
Contemporary quilt made with cyanotype prints which celebrates 250 years since Captain Cook set sail to explore distant oceans in 1768. All the images on the piece relate to Captain Cook's 2nd and 3rd Voyages. High contrast images were taken from public collections, engravings and books, and images include: Chronometer used to navigate (and included are modern photographs of the instruments he used in the national maritime museum); Map of South Georgia drawn by Cook who was an amazing navigator and map maker; other images show some of the items he brought back with him from his travels. The images were printed and then joined together, and quilted with a simple design so as not to detract from the interesting images as the focal point of the piece.

112cm x 173cm

You can find out more about the maker on her Quilters' Guild member profile page https://www.quiltersguild.org.uk/members/page/catherine-corbishley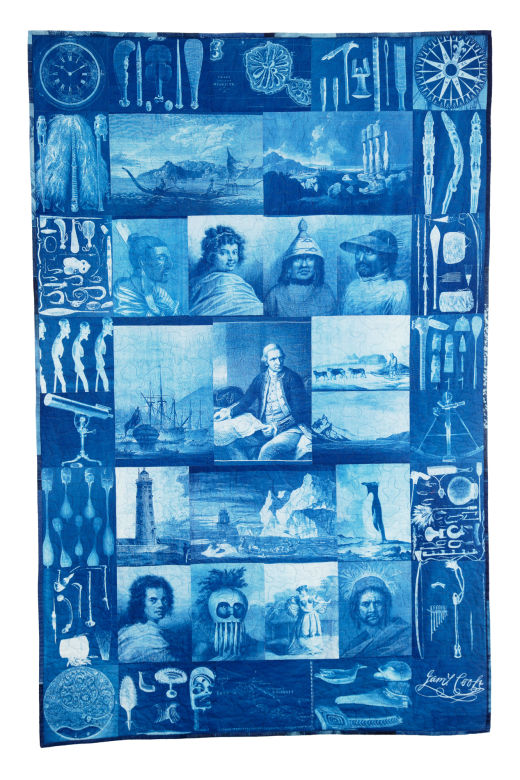 The Quilters' Guild Collection is held by The Quilters' Guild of the British Isles.
Registered charity no 1067361 Company limited by guarantee registration no 34476331 Charity in Scotland no. SC043174.
© 2021 Quilt Museum and Gallery, York | Printed from: www.quiltmuseum.org.uk/collections/contemporary/three-ships-from-hull-captain-cook-250.html