Sixties Hexagons Tea Cosy
Move your mouse cursor over the image to examine this quilt in detail.
Maker:

UNKNOWN

Date:

1960 - 1965
Tea cosy made from hexagons of printed dress and furnishing fabrics dating from the 1960s. The tea cosy is edged with a short red frill and is thickly wadded.

It was made in the early to mid 1960s by Winifred Haskell, the Great Aunt of the donor. She was a Royal School of Needlework trained embroiderer who specialised in ecclesiastical gold work and drawn thread work. She did not have a very high opinion of patchwork, and considered it less important and creative than embroidery. As a result, she didn't give much thought to layout or design, and used whichever materials she had to hand, whether they were suitable for patchwork or not.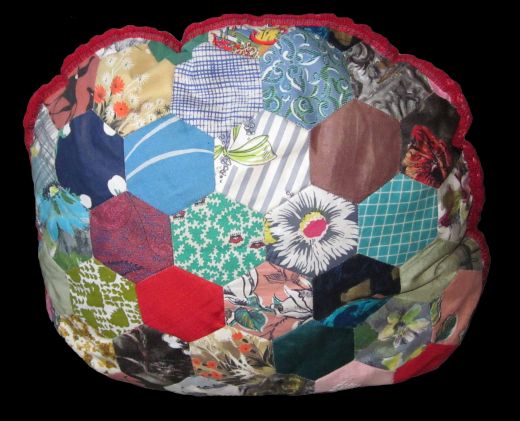 The Quilters' Guild Collection is held by The Quilters' Guild of the British Isles.
Registered charity no 1067361 Company limited by guarantee registration no 34476331 Charity in Scotland no. SC043174.
© 2020 Quilt Museum and Gallery, York | Printed from: www.quiltmuseum.org.uk/collections/domestic-items/sixties-hexagons-tea-cosy.html