Music Papers Hexagons Fragment
Move your mouse cursor over the image to examine this quilt in detail.
Maker:

Date:

1930 - 1939
Hexagon fragment containing silk, rayon and velvet fabrics arranged in colourful double rosettes. The hexagons are hand sewn and pieced over music papers, which are remain in situ.

132cm x 151cm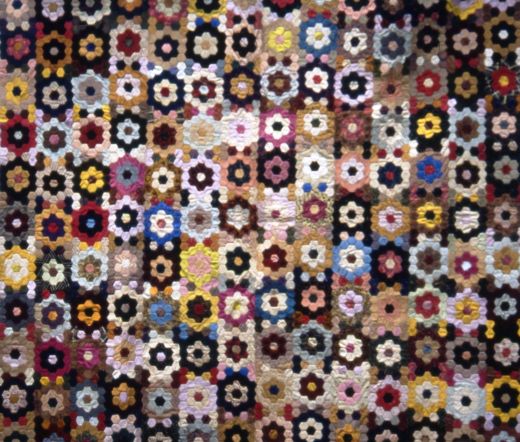 The Quilters' Guild Collection is held by The Quilters' Guild of the British Isles.
Registered charity no 1067361 Company limited by guarantee registration no 34476331 Charity in Scotland no. SC043174.
© 2022 Quilt Museum and Gallery, York | Printed from: www.quiltmuseum.org.uk/collections/heritage/all/1850-1930/music-papers-hexagons-fragment.html