Suit Wools Canadian Red Cross Quilt
Move your mouse cursor over the image to examine this quilt in detail.
Maker:

Date:

1939 - 1945
This quilt is made from squares of suiting wool in plain, check or striped design, and it is thought that these are from a tailor's sample book, as no pieces are exactly the same. The quilt is tied with pink and blue wool to keep the three layers together. This less time consuming than quilting a pattern, and very often these quilts had to be produced quickly to meet high demands. Unfortunately we have no existing information regarding the recipient of this quilt, but the Canadian Red Cross Label is still intact, machine stitched on the reverse.

Thousands of quilts were sent over from the Canadian Red Cross Society to Britain in the Second World War to aid the War relief. They were given to families that had been bombed out of their houses as well as members of the armed forces, hospitals and hostels. Quilts were made quickly and were often utilitarian in style, and the crazy block was one of the most popular styles as any size and colour of fabric scrap could be used. Each quilt had a small label sewn on which read 'Gift of the Candian Red Cross Society'. The women who made the quilt remain anonymous, as it was forbidden for them to put their names to the quilts they made.

The red cross emblem is a protective symbol used during armed conflicts and its use is restricted by law. The Quilters' Guild wishes to thank the United Kingdom Ministry of Defence and the British Red Cross Society for authorisation to display the Canadian Red Cross quilts bearing the emblem on our collections website.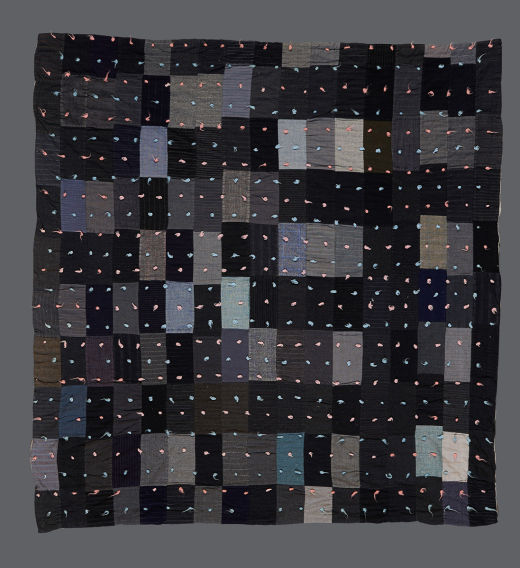 The Quilters' Guild Collection is held by The Quilters' Guild of the British Isles.
Registered charity no 1067361 Company limited by guarantee registration no 34476331 Charity in Scotland no. SC043174.
© 2020 Quilt Museum and Gallery, York | Printed from: www.quiltmuseum.org.uk/collections/heritage/all/1920-1940/suit-wools-canadian-red-cross-quilt.html