Billings Coverlet
Move your mouse cursor over the image to examine this quilt in detail.
Maker:

Date:

1805 - 1810
Square coverlet made from fifteen frames of printed cotton hexagons, squares on point, kites and long diamonds made from triangles. Some of the fabrics date from the 1770s, and several have three blue threads in the selvedge. The majority of the fabrics are made from dress prints, although there are some furnishing prints represented. The coverlet had been passed down through the donor's family from her Great Grandmother, who was a housekeeper in a large house in the Leeds area.

215cm x 215cm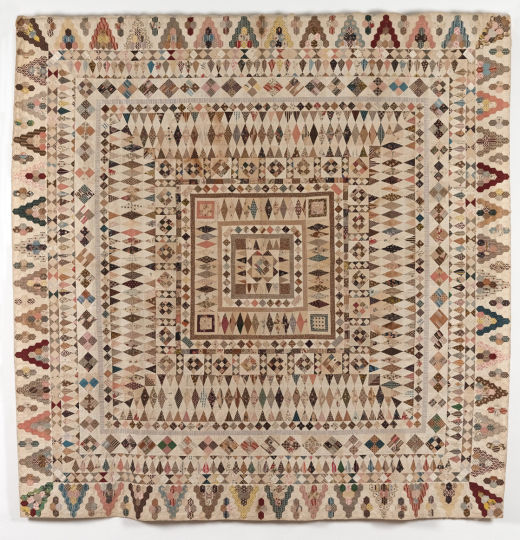 The Quilt Museum and Gallery is an independent museum operated by The Quilters' Guild of the British Isles.
Registered charity no 1067361 Company limited by guarantee registration no 34476331 Charity in Scotland no. SC043174.
© 2015 Quilt Museum and Gallery, York | Printed from: www.quiltmuseum.org.uk/collections/heritage/billings-coverlet.html