Eighteenth century patchwork fragment
Move your mouse cursor over the image to examine this quilt in detail.
Maker:

UNKNOWN

Date:

1700 - 1760
Silk mosaic patchwork fragment with original handwritten and printed paper templates still in situ. The main part of the patchwork is made up from square blocks that have been quartered into triangles, with a central star medallion and several smaller star shaped motifs. These smaller stars seem to be a later addition or afterthought, as they are not incorporated into the patchwork design but are instead placed over the top of the existing geometric block patches. The fabrics are a mixture of plain and woven silks, some of which has hand embroidery and looks to be recycled from use as fashionable dress. This fragment (unlike the associated six chair seat covers) contains some early printed cotton fabrics as well as the silks.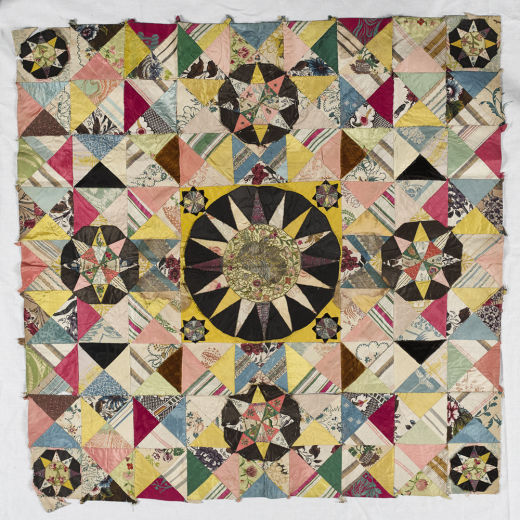 The Quilters' Guild Collection is held by The Quilters' Guild of the British Isles.
Registered charity no 1067361 Company limited by guarantee registration no 34476331 Charity in Scotland no. SC043174.
© 2021 Quilt Museum and Gallery, York | Printed from: www.quiltmuseum.org.uk/collections/mosaic-patchwork/eighteenth-century-patchwork-fragment.html