Circles Quilt
Move your mouse cursor over the image to examine this quilt in detail.
Maker:

UNKNOWN

Date:

1850 - 1900
The circular Turkey Red discharge printed motifs on this quilt have been pieced from four large squares to make a continuous border of circles and a central circular medallion. The pieces are then framed top and bottom with Turkey Red twill and an outer border of printed cotton. The edges are butted with two rows of machine stitching, and there are two laundry labels on the back of the quilt. The quilt is backed with another Turkey Red printed design.

196cm x 221cm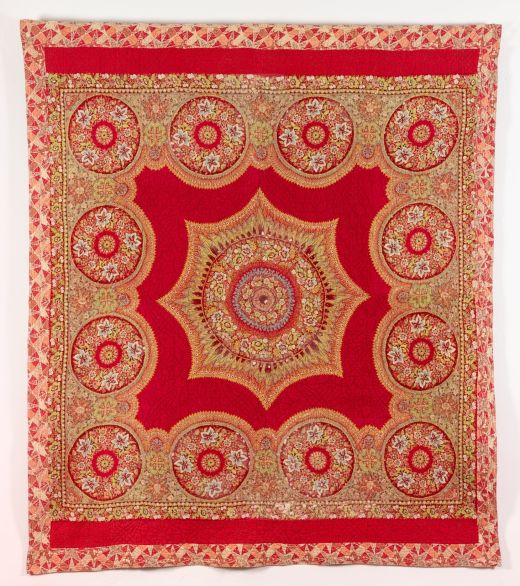 The Quilters' Guild Collection is held by The Quilters' Guild of the British Isles.
Registered charity no 1067361 Company limited by guarantee registration no 34476331 Charity in Scotland no. SC043174.
© 2018 Quilt Museum and Gallery, York | Printed from: www.quiltmuseum.org.uk/collections/turkey-red-fabric/all/1840-1920/circles-quilt.html