Blue and gold Welsh strippy
Move your mouse cursor over the image to examine this quilt in detail.
Maker:

UNKNOWN

Date:

1900 - 1920
Made from blue and gold wool, the hand quilted motifs on this quilt are sewn in red stitching. The motifs include the fan, wheel and church window with three spirals, and the overall design still follows the traditional Welsh framed layout. This differs from the strippys made in the North Country, which have specific rows of strippy quilting patterns that follow the fabric. In Wales, the strippy quilting layouts are the same as a plain wholecloth.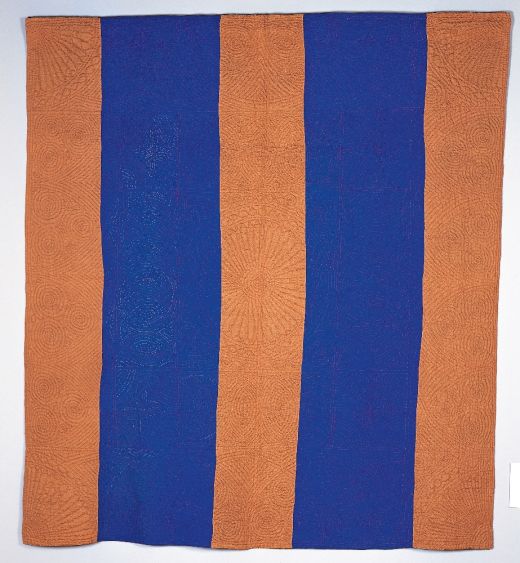 The Quilters' Guild Collection is held by The Quilters' Guild of the British Isles.
Registered charity no 1067361 Company limited by guarantee registration no 34476331 Charity in Scotland no. SC043174.
© 2019 Quilt Museum and Gallery, York | Printed from: www.quiltmuseum.org.uk/collections/wholecloth/blue-and-gold-welsh-strippy.html