Castleside Strippy Quilt
Move your mouse cursor over the image to examine this quilt in detail.
Maker:

Forrest, Anne, Mrs

Date:

1900 - 1906
Made from pink and white cotton strips, this quilt is machine pieced and hand-quilted with a cable motif, a wavy line with square diamond infill and half daisy designs. There are only two variations of design, and the motifs are kept the same on each colour.

This quilt was made by Mrs Ann Forrest between 1900-1906. Ann was a student of Mrs Ellen Ellison (née Dent) at the Castleside Quilting Circle. Mrs Ellison was a high class qualified dressmaker who was also the local embroidery teacher and quilt maker. She was teaching and quilting between 1890 and c.1940.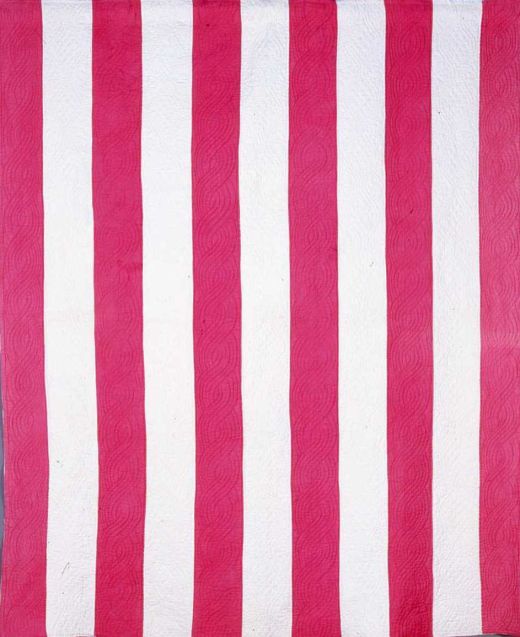 The Quilters' Guild Collection is held by The Quilters' Guild of the British Isles.
Registered charity no 1067361 Company limited by guarantee registration no 34476331 Charity in Scotland no. SC043174.
© 2021 Quilt Museum and Gallery, York | Printed from: www.quiltmuseum.org.uk/collections/wholecloth/castleside-strippy-quilt.html