Colourful quilts
Published: Tuesday, 4th August 2015 10:29 AM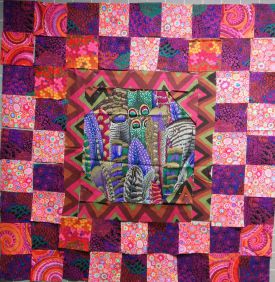 The National Railway Museum, York, was the rather unlikely venue for Kaffe Fassett's colour workshops at the end of July. Chosen because of the amount of wall space available, the Museum hosted 60 quilters over the two days, each working on the colour layout for Kaffe's Medallion quilt, from his new book Heritage Quilts.
The results were nothing short of spectacular! Kaffe's teaching at the start of the day and his individual critique of each quilt layout at the end meant participants left brimming with new ideas, the confidence to think outside the box and the determination to avoid "matchy-matchy"!
The Quilters' Guild Collection is held by The Quilters' Guild of the British Isles.
Registered charity no 1067361 Company limited by guarantee registration no 34476331 Charity in Scotland no. SC043174.
© 2021 Quilt Museum and Gallery, York | Printed from: www.quiltmuseum.org.uk/blog/adult-community-learners/01453.html