The Denman College Coverlet
Published: Friday, 13th February 2015 15:27 PM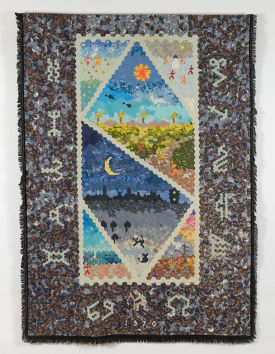 The Quilters' Guild Collection contains over 800 objects, all of which have their own unique story. Quilt Museum volunteer, Alizee Cordes, has chosen one quilt from the collection which has captured her imagination. Read on to find out about her research into our Denman College Coverlet.
The Denman College Coverlet
This interesting piece in The Quilters' Guild Collection was created by members of the Women's institute in 1970. It was created as part of the furnishings to go in one of the rooms in Denman College, a Georgian mansion in Oxfordshire used by the Women's Institute for day and residential learning courses. Its originality comes from the choice of the quilters to depict natural phenomenon and astrological symbols combined with the traditional hexagon style.
Women's Institute
This coverlet has been created by members of the Women's Institute based at Denman College, in Oxfordshire. This college, which opened in 1948, has an educational goal, as women attend classes and courses to learn about arts and humanities (gardening, needlework, astronomy, art, music etc.). In his opening speech, the first director Sir Richard Livingston emphasized the role of handicraft in education. Quilting has always been an important activity at Denman College and this particular one reflects the importance of creativity and knowledge in women's education.
Back-to-Nature
This hexagon coverlet depicts several natural phenomenon such as night and day with the four seasons in its central rectangle. The border has signs of the zodiac on a blue and brown background. In the central rectangle the coverlet also depicts several animals, such as dogs, cats and birds, as well as human figures who are playing on a beach, with a snowman, holding hands in spring and walking in a forest in autumn. The Zodiac's signs emphasizes the interests developed by the makers in astrology during that time period. All the characters and symbols seem to be in total harmony with their surroundings, enjoying what Mother Nature has to give.
1970's Quilt Revival
The crafts saw a revival in the 1970's with several exhibitions opening in America, in 1971 at the Whitney Museum in New York but also in the UK at the Victoria and Albert Museum in London in 1973. This decade also saw the creation of The Quilters Guild in 1979, showing the immense interest in quilting during that period. Quilting started being perceived differently, not only as a domestic activity but, with the rise of feminism, as an artistic activity. It was also a way for feminist artists to challenge the art hierarchy, and place women's art at its centre. The museum's coverlet fits perfectly in this revival by mixing a traditional technique, hexagon quilt, with a new modern iconography.