Limited Edition Wholecloth Mug
Published: Tuesday, 16th February 2010 08:38 AM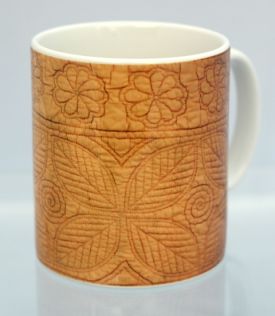 To coincide with our current exhibition, Celtic Fringe the Quilt Museum and The Quilters' Guild have a produced a unique, limited edition mug.
The mug features a detail of the border of the Claridges Quilt, which was made in the 1930's as part of the Rural Industries Bureau program in Wales for the Claridges Hotel in London. The Claridges Quilt isnow preserved in the The Quilters Guild Collection and on show in the Celtic Fringe exhibition.
With a photographic quality image the fine detail of stitching and fabric is beautifully shown on the mug with its classic Welsh spiral,leafand flower motifs.
The mug is available in the Quilt Museum and Gallery gift shop and also in our online shop