Quilt Treasures
Published: Tuesday, 9th March 2010 14:27 PM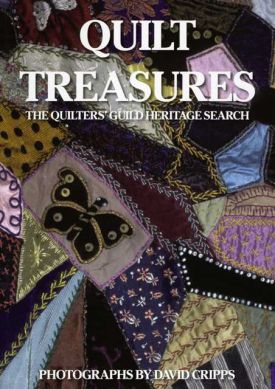 When The Quilters' Guild of the British Isles set out to record quilts made in the country before 1960, no-one expected they would find such a wealth of textile treasures.
It took three years, 29 venues and a special team of experts to record over 4,000 items, mainly quilts and coverlets but also costume and other items. There were wholecloths from Wales and the North of England where the design focus lies in the quilting pattern; both simple and complex patchwork quilts made of cotton or wool or even sometimes silk and velvet; richly embroidered quilts and utilitarian quilts that told of social deprivation.
Quilt Treasures highlights some of the many different quilts brought to these Documentation Days. Thus it chronicles the unique character of British quiltmaking over a period of 300 years. It also records some categories of quilts with special associations, such as Bible and signature quilts; quilts made for Eisteddfods or by groups as an expression of friendship or to raise funds; military quilts; and quilts with political associations.
There are stories about individual British quiltmakers which offer insight into social history and stories from beyond Britain - Red Cross quilts sent from Canada to help with the war relief; American kit quilts from the 1930's (probably sent as gifts); applique panels from Egypt influenced by the discovery of King Tutankhamun's tomb and embroidery from China.
Chronological tables with detailed textile analysis provide valuable guidlelines to help date a quilt by 'reading the fabric'. Readers are also given a new full Glossary, Recommendations for Reading, and a Guide to Appreciation and an Index.
Quilt Treasures was written by some of the UK's leading authorities on the country's quilt traditions. Since it was first published in 1995 the book has proved to be both a useful reference and source of inspiration for quiltmakers and historians around the world. The Guild has reprinted this ammended and updated edition by popular demand.
By Janet Rae, Margaret Tucker, Dinah Travis, Pauline Adams, Bridget Long, Deryn O'Connor, Tina Fenwick Smith and photography by David Cripps.
Quilt Treasures is available from the Quilt Museum shop and online, just follow this link
http://www.quiltmuseumshop.org.uk/product/647/Quilt_Treasures