The Great British Sewing Bee launches on the 2nd April!
Published: Saturday, 30th March 2013 13:20 PM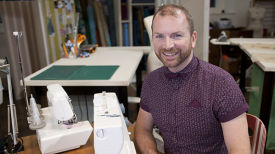 Part of the programme was filmed at the Museum last Autumn when local contestant and quilt designer Stuart Hillard was profiled at the Museum
You can check out Stuart's profile here
http://www.bbc.co.uk/programmes/p0165nj8/profiles/stuart
If you are inspired to have a go after seeing the programme, why not try one of the Quilters' Guilds courses or workshops based at the Quilt Museum? See the Events page for details.
Watch this space for an upcoming event with Stuart!
The Great British Sewing Bee is on BBC Two at 8pm on Tuesday 2nd April.