New publication by Curator Heather Audin
Published: Saturday, 28th September 2013 15:34 PM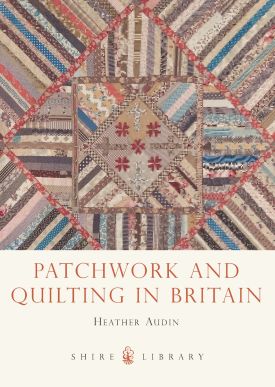 Patchwork and Quilting in Britiain is the latest addition to the Shire Library series. The book covers more than 300 years of patchwork and quilting history and contains a special colour section showing some of the 'gems' of the Quilt Museum and Gallery collection.
Key chapters include: Patchwork is the Fashion of This Age: 1700–1800; Pretty Prints and Colourful Cottons: 1800–50; The Fashion for Fancywork: 1850–1900; Fluctuating Fortunes: 1900–50; The Revival: 1950–2000; Further Reading and Places to Visit.
The book's compact format makes it an ideal companion for quilt enthusiasts (who want a convenient pocket-size reference that they can carry easily, new quilters looking for an introduction to patchwork and quilting.
By bringing together experts and enthusiasts, Shire Books has continually sought to fill the gaps in published material, providing affordable non-fiction paperbacks that reflect the interests and passions of ordinary people everywhere. In its50 year history the company has published over 1000 titles, covering a broad and eclectic range of subjects.
Abraham Davies, Shire spokesman, said: "Patchwork and Quilting in Britain is the kind of title we absolutely love to publish, the sort that fits so perfectly on our list that it's hard to believe we don't have it already. We're delighted that Heather agreed to write it for us, and also at the project's perfect timing, coinciding with such a wave of public enthusiasm about crafts and the homemade."
At £6.99, Patchwork and Quilting in Britain offers great value for money available online and in the Quilt Museum Shop .