19th Century Patchwork Pocket
Move your mouse cursor over the image to examine this quilt in detail.
Maker:

UNKNOWN

Date:

1830 - 1840
This pocket is an unusual example of a decorative pocket from c.1830-40s. The front layer is pieced together from squares and rectangles of roller printed dress cottons in predominantly blues, purples and brown/yellows, and the back of the pocket is one piece of printed foliate pattern cotton in brown and cream. The pocket is constructed to provide three compartments, two of which are accessed by slits in the side that have bound edges, and one horizontal compartment with a flap and buttonhole.

Examples of decorative pockets more often date from the 18th century. They could have been worn in pairs or on their own, and were threaded through a tape which was tied around the waist. They were often worn under clothes to keep valuables safe, and were accessed through slits in the side of the wearers skirt. Changes to female fashion altered the use of the pocket, as slimline Regency fashion did not allow for the wearing of pockets underneath. However, although it is thought that the pocket was no longer fashionable into the 19th century, it is uncertain how long it remained in practical use, and it could have been an item of costume that remainied in use for longer than originally thought.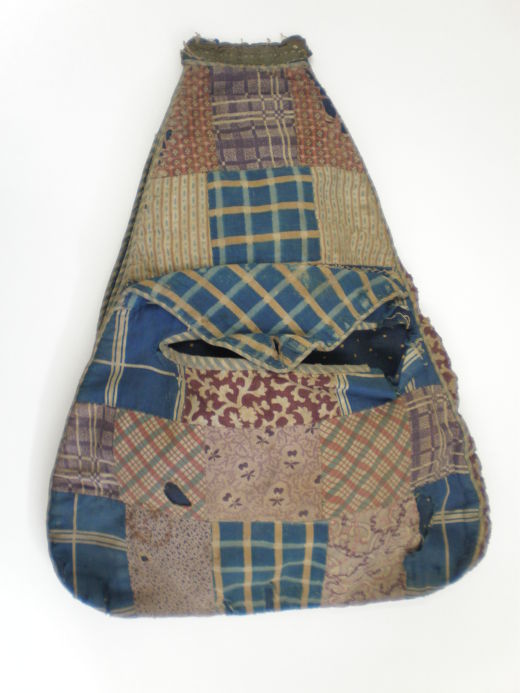 The Quilters' Guild Collection is held by The Quilters' Guild of the British Isles.
Registered charity no 1067361 Company limited by guarantee registration no 34476331 Charity in Scotland no. SC043174.
© 2020 Quilt Museum and Gallery, York | Printed from: www.quiltmuseum.org.uk/collections/all/all/1700-2017/19th-century-patchwork-pocket.html