'York 800 - A Celebration'
Move your mouse cursor over the image to examine this quilt in detail.
Maker:

Date:

2012
A pictoral celebration of famous characters who are a part of the city of York's rich history. The artist was keen portray York as a vibrant and colourful city, and believes that what makes a city is the people that live within it. The people who feature in the quilt are:

King John - on his way back to London after selling York for £200 and three palfreys. The horses are none too happy to be leaving their home and sob all the way, their tears flowing into the river Ouse.

George Hudson - "the railway king", brought the railways to York but fraud and bribery charges left him shunned by polite society. He is only able to watch the celebrations from a distance.

Guy Fawkes - in charge of pyrotechnics later in the evening.

Dick Turpin - bit of a sore throat but glad to be at the party.

Thomas Cooke - representing Victorian science and philosophy, trying out one of his latest telescopes.

Dame Judi Dench - dancing with the.....

Tobacco Indian - and both having a splendid time.

The Printers Devil - somehow got hold of the keys and freed himself from his chains and his usual residence in Stonegate.

Shed 7 - reinvented themselves as a carnival band and providing sterling musical entertainment.

Minerva - bit bored with being responsible for wisdom and drama in High Petergate for the last couple of hundred years, she's having a good stretch and a yawn and getting ready to join the party.

Margaret Clitherow - soon to be martyred for her catholic faith.

Two protestant sergeants - tasked with crushing Margaret to death.

Ghostly Roman Soldiers - as seen by Harry Martingale, and here, having just discovered Pimms at the pop-up Bettys.

Bettys waitresses - unfortunately being distracted from their duties by the soldiers.

This quilt is one of two commissioned quilts by The Quilters' Guild of the British Isles for the 'Quilt City' project, a specially funded quilt trail across the city of York as part of the 800th anniversary celebrations.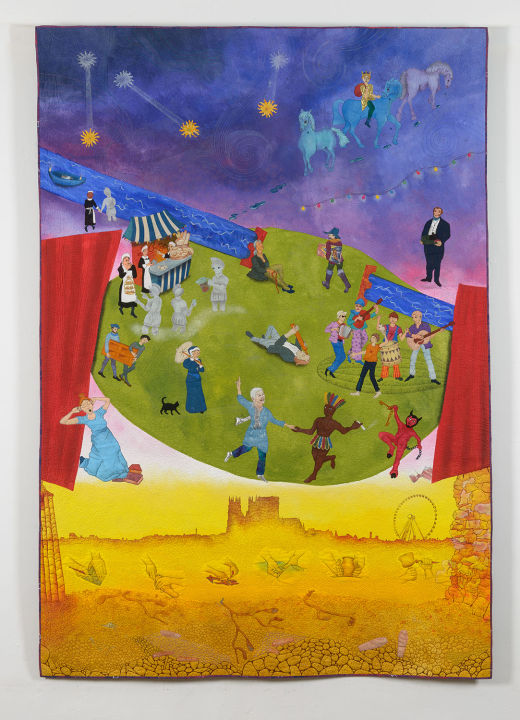 The Quilters' Guild Collection is held by The Quilters' Guild of the British Isles.
Registered charity no 1067361 Company limited by guarantee registration no 34476331 Charity in Scotland no. SC043174.
© 2021 Quilt Museum and Gallery, York | Printed from: www.quiltmuseum.org.uk/collections/all/linda-barlow/1700-2021/york-800--a-celebration.html