All the World's a Stage
Move your mouse cursor over the image to examine this quilt in detail.
Maker:

Date:

1993
All the World's a Stage is an interesting piece uses the speech from Shakespeare's As You Like it as its inspiration. The famous speech spoken by Jacques, a melancholic nobleman with a philosophical outlook, compares life to a play and divides man's time on earth into seven ages - from a newborn infant to a man in old age.

These, and the stages in between, are beautifully illustrated in the pictoral centre stage of the quilt, with Gods adorning the surrounding columns taken from different world cultures.

The style of this piece is very iconic and particular to the artist, who often combines narrative works based on historical subjects with her expertise in appliqué, quilting and embroidery. All the fabrics are silks, and the piece features machine embroidery and machine appliqué in a style that has become the hallmark of Linda's work. Linda herself can be seen as one of the characters around the edge of the quilt, busy at her sewing machine.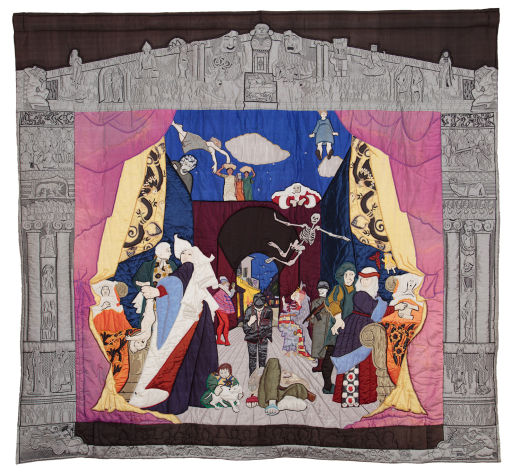 The Quilters' Guild Collection is held by The Quilters' Guild of the British Isles.
Registered charity no 1067361 Company limited by guarantee registration no 34476331 Charity in Scotland no. SC043174.
© 2021 Quilt Museum and Gallery, York | Printed from: www.quiltmuseum.org.uk/collections/contemporary/linda-straw/1700-2020/all-the-worlds-a-stage.html