Octagons and Squares Fragment
Move your mouse cursor over the image to examine this quilt in detail.
Maker:

UNKNOWN

Date:

1780 - 1839
Mosaic printed cottons patchwork fragment in octagons and squares, with some of the papers still intact. The earliest fabrics date to the 1780s, and tha majority of the fabrics are from the 1790s - 1810s. There are also a few twill woven fabrics and manganese brown prints fro the 1820s-1830s. Two of the paper pieces have the date 1785 and 1795.

This early printed cottons piece is unusual, as it is made from octagons rather than the usual hexagon shape, which is more common.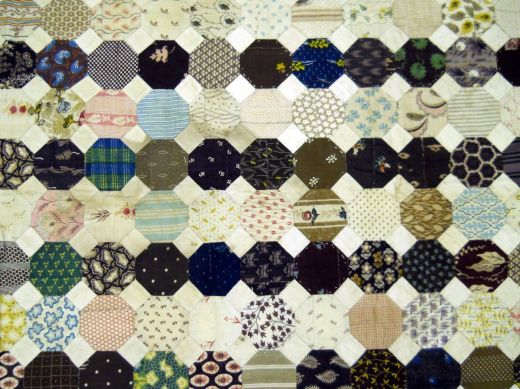 The Quilters' Guild Collection is held by The Quilters' Guild of the British Isles.
Registered charity no 1067361 Company limited by guarantee registration no 34476331 Charity in Scotland no. SC043174.
© 2021 Quilt Museum and Gallery, York | Printed from: www.quiltmuseum.org.uk/collections/heritage/all/1700-1800/octagons-and-squares-fragment.html