Applique Cot Coverlet
Move your mouse cursor over the image to examine this quilt in detail.
Maker:

Mrs Routh

Date:

1890 - 1900
This charming cot coverlet is made from colourful printed cotton shapes which have been applied to a single cotton sheet foundation fabric. The main shapes have been cut in the same way as a paper snowflake, using a quarter template placed on the folds of a square of fabric folded into quarters.

In addition to the main flower and arrow shape, the white space in-between has been filled with different shapes which include people, animals, boots/socks and random shapes. It was made by Mrs Routh in the last decade of the nineteenth century, who was originally from the North of England. Mrs Routh also made a much larger coverlet with the same main flower design, but this one uses stars to fill in the white spaces instead of the people and animals on the cot coverlet. As single sheet coverlets these would have been made for use in the summer months as light, decorative pieces.

The printed cottons were everyday dress cottons, and the pastel colours were popular at this time. The mauves could have been half mourning fabrics, and used when it was acceptable to start reintroducing a limit colour palette to your wardrobe after a long period of only wearing black.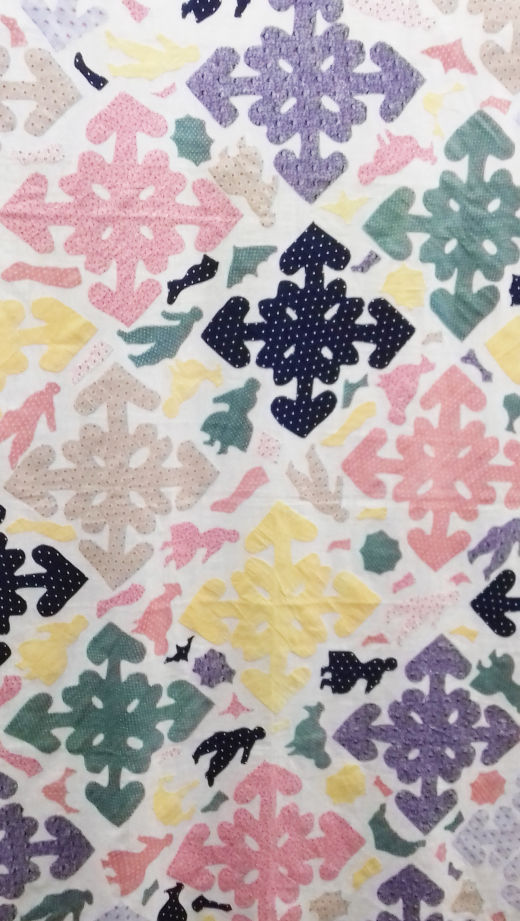 The Quilters' Guild Collection is held by The Quilters' Guild of the British Isles.
Registered charity no 1067361 Company limited by guarantee registration no 34476331 Charity in Scotland no. SC043174.
© 2021 Quilt Museum and Gallery, York | Printed from: www.quiltmuseum.org.uk/collections/heritage/applique-cot-coverlet.html