Felt Squares Coverlet
Move your mouse cursor over the image to examine this quilt in detail.
Maker:

Thomas Williams

Date:

1910 - 1920
Wool pieced quilt made from squares, with smaller squares on point, arranged to create a central cross surrounded by coloured frames, and edged in an outer border of bobble fringing. Each piece has embroidery outlining and crosses, in the same or contrasting thread.

It was made by the donors great, great uncle, Thomas Williams of Tandrige, Surrey, most likely at some point in the early 20th century. It has always been believed that this piece was made 'during the war', possibly meaning the First World War, but it is possible the Tom never served in the military. His occupation on the Railways as a Railway Shunter, responsible for moving rolling stock around the railway yards, was scheduled as an occupation important for War work. However, it could still have been made during the time of the War, but with a civilian rather than military connection.

The square shape and the fringing on all four sides indicates it could have been intended as a tablecover rather than a bed piece.

163cm x 163cm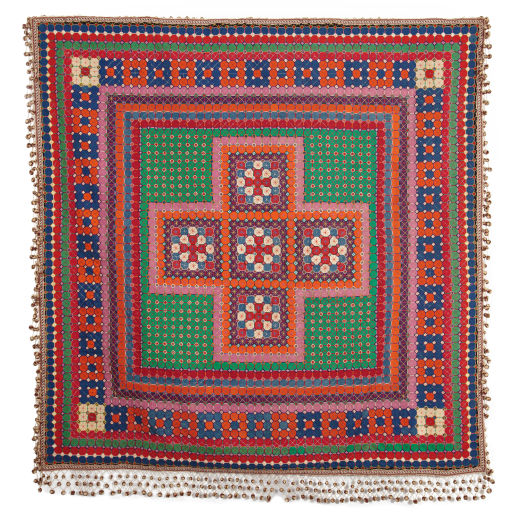 The Quilters' Guild Collection is held by The Quilters' Guild of the British Isles.
Registered charity no 1067361 Company limited by guarantee registration no 34476331 Charity in Scotland no. SC043174.
© 2021 Quilt Museum and Gallery, York | Printed from: www.quiltmuseum.org.uk/collections/heritage/felt-squares-coverlet.html