Mosaic Coverlet with Padded Centre
Move your mouse cursor over the image to examine this quilt in detail.
Maker:

Ina MacRae

Date:

1930 - 1939
Mosaic patchwork coverlet with padded circular medallion centre, possibly originally intended to be a cushion. The centre is surrounded by frames that contain different block designs featuring squares, hexagons, kits and diamonds. The paper templates and tacking stitches are still intact in the back.

It was made by Ina MacRae during the 1930s and 40s from fabric from the 20s and 30s. She was born in Colchester in 1904, and moved to Great Dunmow, Essex in the early 1920s where she, her mother and her two sisters (Anne and Jo) ran a haberdashery shop. Ina always recalled this period as a happy time, with walks, picnics, ice skating and performances with the local operatic society. The family returned to Colchester in 1933, Anne got married and Ina and Anne got jobs in Colchester. It was in this period that she began the patchwork using material from her scrap bag and remnants from the shop. Many of the fabrics had sentimental value and history, being taken from memorable family clothing. The family don't recall her doing much needlework after the Second World War although they did often make their own clothes, including a fine silk petticoat and underwear made from a silk parachute that came down in a nearby field. She was also a keen gardener and ran a well provisioned allotment during the war as well as a pretty town garden. She never married, though was engaged for a short time in the 1940s but the engagement was broken off for an unknown reason.

199cm x 219cm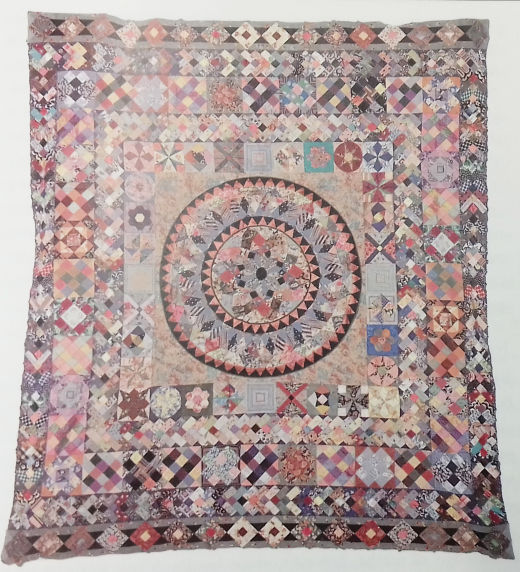 The Quilters' Guild Collection is held by The Quilters' Guild of the British Isles.
Registered charity no 1067361 Company limited by guarantee registration no 34476331 Charity in Scotland no. SC043174.
© 2021 Quilt Museum and Gallery, York | Printed from: www.quiltmuseum.org.uk/collections/heritage/mosaic-coverlet-with-padded-centre.html