Mosaic Patchwork Block Coverlet
Move your mouse cursor over the image to examine this quilt in detail.
Maker:

UNKNOWN

Date:

1860 - 1900
Mosaic patchwork coverlet constructed from very small pieces, organised in blocks and rows, with a central square on point surrounded by small squares within a square frame, and further frames that have repeating blocks of various mosaic patchwork designs. The design is very complex and well designed, and some of the pieces are very small. The coverlet is made from silks, some of which are ribbons. It has been backed with a floral printed cotton and there is a blue silk fringe with bead tassels which is present on three sides, but has been cut/partially removed on the fourth side. The backing and the fringe has possibly been added at a later date. There is a thin layer of wadding which can be seen through some of the holes of the patchwork.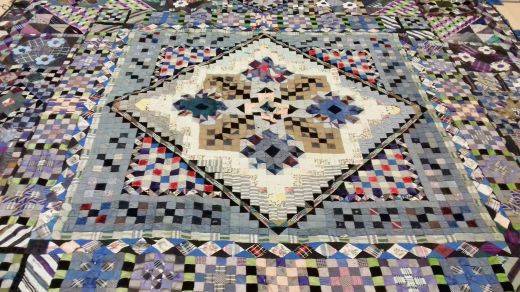 The Quilters' Guild Collection is held by The Quilters' Guild of the British Isles.
Registered charity no 1067361 Company limited by guarantee registration no 34476331 Charity in Scotland no. SC043174.
© 2021 Quilt Museum and Gallery, York | Printed from: www.quiltmuseum.org.uk/collections/heritage/mosaic-patchwork-block-coverlet.html