Westmont Women's Club War Work Committee Quilt
Move your mouse cursor over the image to examine this quilt in detail.
Maker:

UNKNOWN

Date:

1939 - 1945
White quilt made from six large squares of different designs of woven white fabric, possibly tablecloth pieces, edged with a wide light/faded pink border. the reverse is plain linen, and there is a woven name tape with text in red which reads 'Westmont Women's Club War Work Committee'. It is likely that this piece was made as part of the war effort during the Second World War and sent across to England, like those made by other women's groups and charitable organisations.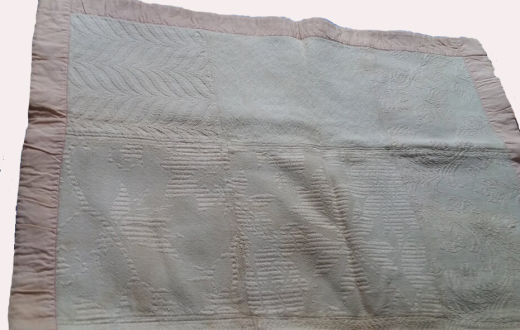 The Quilters' Guild Collection is held by The Quilters' Guild of the British Isles.
Registered charity no 1067361 Company limited by guarantee registration no 34476331 Charity in Scotland no. SC043174.
© 2021 Quilt Museum and Gallery, York | Printed from: www.quiltmuseum.org.uk/collections/heritage/westmont-womens-club-war-work-committee-quilt.html