Yarcombe Quilt
Move your mouse cursor over the image to examine this quilt in detail.
Maker:

Louisa Cook

Date:

1820 - 1850
Frame Quilt with star block centre made from printed cottons with frames of squares, rectangles and triangles. The hand quilting design is drawn in a Welsh Style frame layout but the motifs differ from the welsh tradition, pointing towards a 'Devon' or 'South West' style tradition. Quilting motifs include a spiral and type of running feather in the outer borders with rose flowers nestled within the curves, square diamond infill and a middle frame of diamonds with flower infills and ferns. The central medallion is a type of circular feather with various motifs in the middle.

It was made by Mrs Louisa Cool of Stock House, Yarcombe, Deon, between 1830-1850. She was the village dressmaker and had two girls as apprentices, who also helped her to make rush candles to sell at half a penny each. Her husband was the village carpenter and made the frame for the quilt. It is presumed that the left over dressmaking materials were used for the frame patchwork side of the piece.

The quilt was recorded in the Rural Industries publication by Elizabeth Hake in the 1930s and also featured in an exhibition 'Made in Devon' at Dartington Hall in 1950.

214cm x 214cm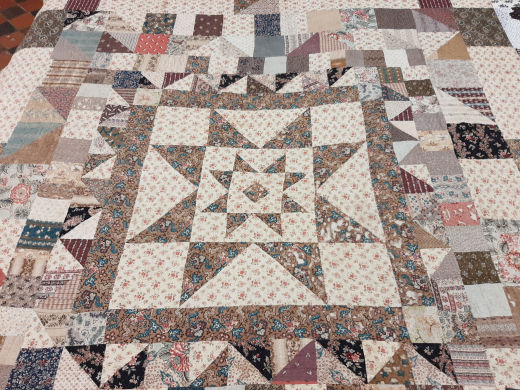 The Quilters' Guild Collection is held by The Quilters' Guild of the British Isles.
Registered charity no 1067361 Company limited by guarantee registration no 34476331 Charity in Scotland no. SC043174.
© 2021 Quilt Museum and Gallery, York | Printed from: www.quiltmuseum.org.uk/collections/heritage/yarcombe-quilt.html