Mary Prince Mosaic Coverlet
Move your mouse cursor over the image to examine this quilt in detail.
Maker:

Prince, Mary

Date:

1803 - 1815
The Mary Prince Coverlet is a compendium of late 18th and early 19th century printed fabrics. The complex frame design of elongated hexagons is arranged according to colours and tone to provide a visually stunning pattern, which demonstrates that the maker was very skilled in both sewing and drafting. Detailed analysis of the fabrics by the British Quilt Study Group has unearthed some interesting facts about the date and construction of this coverlet.

When examined closely many of the hexagon pieces were found to have blue threads in the selvedge (the woven edge of the fabric). From 1774 – 1811, British weavers were required to put three blue threads in their selvedges to prove it was manufactured at home and exempt it from certain taxes. It is also thought that the embroidered date on the linen tape on the reverse of the coverlet is misleading. Although the dating appears simple - 1803 - fabric analysis has shown that this is not as clear cut as it would first seem. The central section contains a very different colour range and there are some hexagons in the centre made from the Lapis printing technique. This technique enabled different colours to be placed alongside each other without gaps or overprinting, but it wasn't invented until 1808. It seems this coverlet was constructed with materials from a wide range of different dates, and the centre contains the later fabrics, with the older ones being used for the outer frames.

It has been suggested that the reason for the confusing construction could be that the maker wanted the most fashionable and up-to-date fabrics as a central focal point. Alternatively, it could be that the whole centre section, which contains the more recent fabrics and has a distinctly different look to the rest of the quilt, could have replaced a damaged section of the original quilt, therefore accounting for the difference in dating.

Until very recently, this coverlet was in too fragile a condition to seen in exhibitions or by researchers, but thanks to funding from the AIM Pilgrim Trust Conservation Grant, The Guild was able to have this coverlet professionally conserved.

230cm x 275cm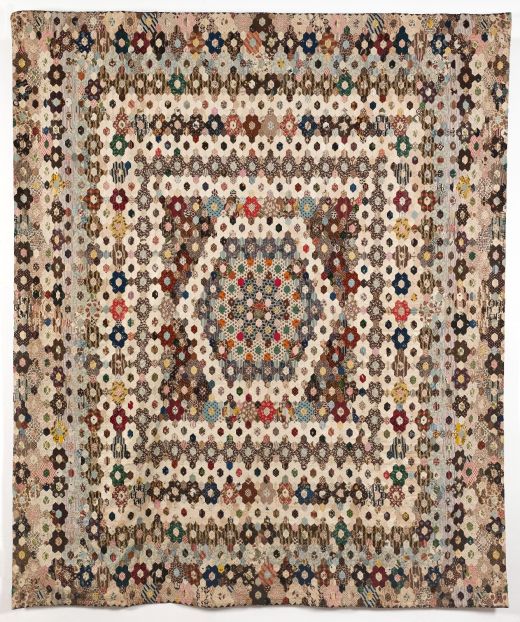 The Quilters' Guild Collection is held by The Quilters' Guild of the British Isles.
Registered charity no 1067361 Company limited by guarantee registration no 34476331 Charity in Scotland no. SC043174.
© 2022 Quilt Museum and Gallery, York | Printed from: www.quiltmuseum.org.uk/collections/mosaic-patchwork/mary-prince-mosaic-coverlet.html