Ridehalgh Quilt
Move your mouse cursor over the image to examine this quilt in detail.
Maker:

UNKNOWN

Date:

1860 - 1890
This beautiful and intricate mosaic patchwork is made from rich silk, brocade and velvet, and each individual piece has been outlined in gold silk braid. The small pieces have been hand sewn over paper templates, making the construction of this elaborate quilt very time consuming. It is backed with a paisley design cotton and red wool reverse which has been quilted in a chevron design to a central cotton wadding.

The quilt is said to have been made for Colonel. Ridehalgh and his wife of Fell Foot House in the Lake District, as a gift from their female servants. Fell Foot was a grand house with an aviary, stables and an extensive 18 acres of landscaped grounds on the east shore of Lake Windermere. Colonel C. J .M. Ridehalgh bought the house in 1859. He was a founder member of the Royal Windermere Yacht Club and constructed a miniature dockyard with Gothic style boathouses for his steam yachts, the 'Fairy Queen' and 'Britannia'.

A story which appeared in local papers in 2006 adds another interesting dimension to the Ridehalgh Quilt. In a secret compartment of a writing desk, a furniture restorer in Staveley found a bundle of love letters between the Colonel and his first wife, Frances (Fanny) Reade, revealing three years of courtship before their marriage in 1856. Fanny died in 1870, and although the Colonel remarried, he was buried with his first wife in St. Mary's Church in Staveley on his death in 1892. We cannot be certain which lady of the house the quilt was made for, as this style of patchwork was popular in both women's time at Fell Foot.

Leaving no children from either marriage, their possessions were passed on to family and the house was sold and eventually demolished in 1910. The grounds are now owned by the National Trust.

205cm x 210cm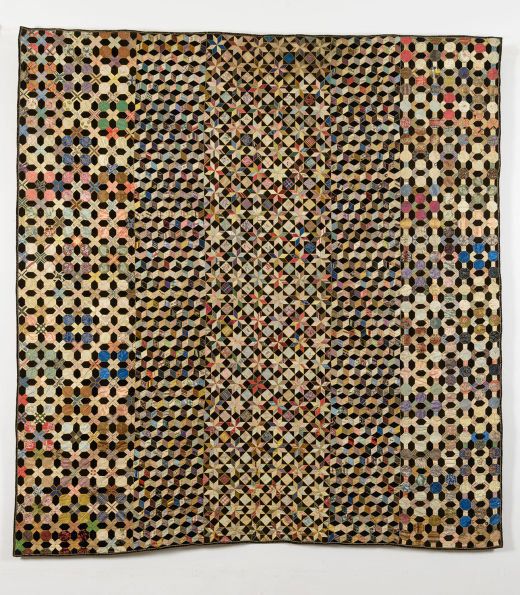 The Quilters' Guild Collection is held by The Quilters' Guild of the British Isles.
Registered charity no 1067361 Company limited by guarantee registration no 34476331 Charity in Scotland no. SC043174.
© 2022 Quilt Museum and Gallery, York | Printed from: www.quiltmuseum.org.uk/collections/mosaic-patchwork/ridehalgh-quilt.html