Water-Marks
Move your mouse cursor over the image to examine this quilt in detail.
Maker:

Kay Jones

Date:

2004
This quilt was inspired by the Great Barrier reef, showing the bright fish and coral and the differing hues of the water. This abstract quilt uses a range of techniques and fabrics including appliqué and free machine quilting to develop the richness and movement of the water.

25 for 25 Collection - Made to celebrate the 25th anniversary of The Quilters' Guild of the British Isles.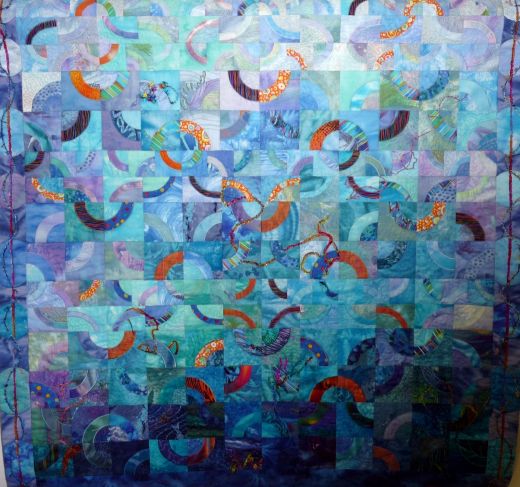 The Quilters' Guild Collection is held by The Quilters' Guild of the British Isles.
Registered charity no 1067361 Company limited by guarantee registration no 34476331 Charity in Scotland no. SC043174.
© 2021 Quilt Museum and Gallery, York | Printed from: www.quiltmuseum.org.uk/collections/the-25-for-25-collection/watermarks1.html