Woven 4 by 4 revisited
Move your mouse cursor over the image to examine this quilt in detail.
Maker:

Passepartout

Date:

2004
Passepartout is a group of quilters: Joan Fogg, Pat Lumsdale, Wendy Parke and Pat Taylor. Their design is based on one of their previous works. It is made up of Woven strips with appliqué, stitching and embellishments, including sequins and beads.

25 for 25 Collection - Made to celebrate the 25th anniversary of The Quilters' Guild of the British Isles.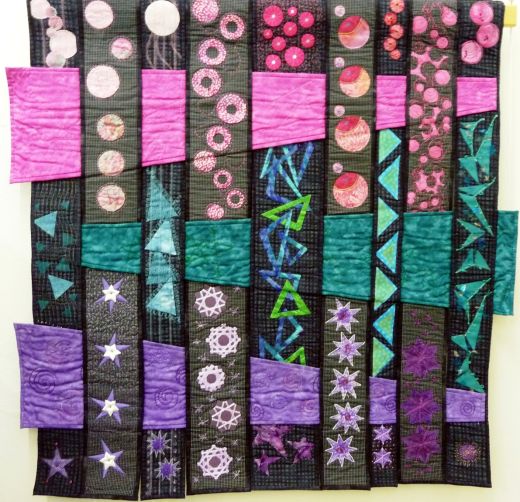 The Quilters' Guild Collection is held by The Quilters' Guild of the British Isles.
Registered charity no 1067361 Company limited by guarantee registration no 34476331 Charity in Scotland no. SC043174.
© 2021 Quilt Museum and Gallery, York | Printed from: www.quiltmuseum.org.uk/collections/the-25-for-25-collection/woven-4-by-4-revisited2.html