Amy Emms Hot Water Bottle Cover
Move your mouse cursor over the image to examine this quilt in detail.
Maker:

Emms, Amy

Date:

1980 - 1989
Hand quilted and hand stitched white cotton sateen hot water bottle cover. One side has a 22 petalled rose design with scroll and hanging diamond infill. The other has two water lilies with a square diamond infill.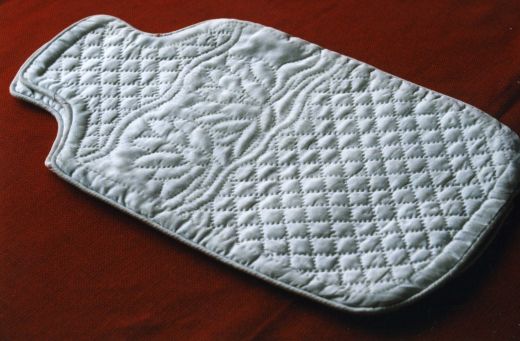 The Quilters' Guild Collection is held by The Quilters' Guild of the British Isles.
Registered charity no 1067361 Company limited by guarantee registration no 34476331 Charity in Scotland no. SC043174.
© 2023 Quilt Museum and Gallery, York | Printed from: www.quiltmuseum.org.uk/collections/wholecloth/emms-hot-water-bottle-cover.html