Honesty Skyline
Move your mouse cursor over the image to examine this quilt in detail.
Maker:

Pauline Burbidge

Date:

2015
'Honesty Skyline' is one of the artist's Quiltscapes, or textile landscapes, which are fabric collages especially made for the wall. Made using cyanotype printing and fabric rubbings, the artist works with plants and flowers that surround her home in the Scottish Borders. The imagery is inspired by the changing natural landscape visible from the artist's studio and home. Honesty (Lunaria annua) is a plant best known for its translucent seed pods, which are circular in shape resembling coins or full moons. The top section of the quilt features printed Honesty seed pods onto cotton lawn and silk organza, with rubbings layered behind. The middle and bottom sections feature fabric rubbings of red hot poker leaves on cotton organdie, with marks underneath drawn on using a Markel stick. All of these collaged layers were hand stitched into place, and then entirely hand quilted throughout the whole piece. This was the second piece made by the artist using the cyanotype printing, a technique new to the artist. Mono printing has also been used and is another technique being developed by the artist in her latest series of Quiltscape works.

Donated in memory of Eileen Lewis of Sheffield.

Photo Credit: Honesty Skyline 133 x 164 cm, by Pauline Burbidge, Photo, Phil Dickson, PSD Photography 2015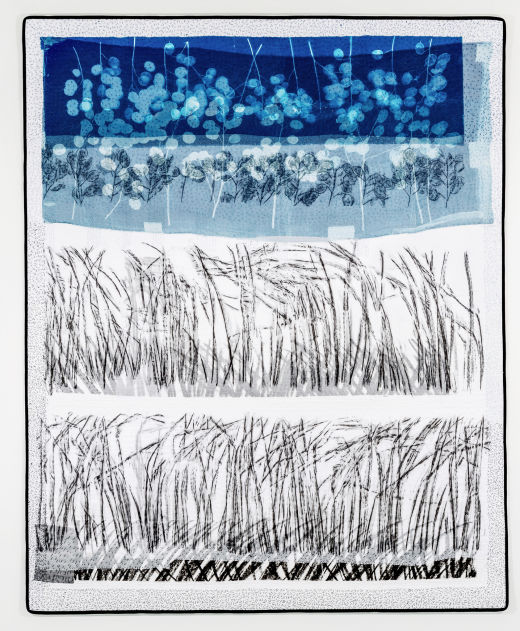 The Quilters' Guild Collection is held by The Quilters' Guild of the British Isles.
Registered charity no 1067361 Company limited by guarantee registration no 34476331 Charity in Scotland no. SC043174.
© 2020 Quilt Museum and Gallery, York | Printed from: www.quiltmuseum.org.uk/collections/contemporary/honesty-skyline.html